Scanner, Printer & Kiosk Services
Today's best desktop scanners enable collaboration, sending documents to the cloud and more. On top of supporting paper documents they can scan business and ID cards. Picking the right desktop scanner depends on , among others, the footprint (space), usage, ease-of-use and desired productivity such as barcode reading as in the new Kodak i2000 series scanners.
1. i2400 Scanner
speed up to 30ppm/4000 pages per day
duplex scan
scan features with 7-Segment Display, 50-Sheet Auto Feeder.
2. i2800 Scanner
speed up to 70ppm/8000 pages per day
duplex scan
scan features with 7-Segment Display, 100-Sheet Auto Feeder.
Kodak Departmental Scanner​
Departmental scanners are document scanners that are ideal for streamlining and automating document management process. They are typically used in government offices, insurance claims departments, HR departments, contracts administration, leasing and more. They usually allow to scan a broader variety of paper document formats than desktop scanners and are connected with business applications. Productivity, quality and cost-efficiency are key.
1. i3400 Scanner
speed up to 90ppm/20,000 pages per day
duplex scan
scan features with spcae-saving and intelligent document protection
Olivetti PR2 PLUS has been designed in different models from the entry-level version to the dual-side scanner model (MB-2model) in order to satisfy multifunctional front-office applications. It is capable to print on all Bank forms from single-sheet and multiple-copy documents to passbooks.
The Olivetti passbook printers PR2 PLUS offer complete solutions in bank teller.
Advantages:
extremely easy to use
up to 560 character/sec in VHSD
magnetic-stripe reading and writing, micr codeline
reading (CMC7 / E13B)
dual-side colour for simultaneous front/back scanning (MB-2 model)
new ink ribbon of up to 10 million characters
one of the smallest and quietest models in its product class
superior printing speeds
process all bank forms
magnetic-stripe reading and writing
dual side colour scanning (MB-2 model)
ultra fast alignment
The EPSON PLQ-20D is ideal for all front desk applications such as banking and public administration offices. The PLQ-20D provides fast print speeds up to 576cps and can print on a wide range of media including passbooks, passports, tickets or visas. With its automatic printhead adjustment feature, it can handle media up to 2.6mm in thickness and has automatic sheet alignment for ease-fo-use. With an MTBF of 10,000 hours this impact printer has been built to last.
Technology:
Printing Method: Impact dot matrix
Number of Pins: 24 pins
Number of columns: 94 columns
Needles: 24 Needles
Epson passbook printers are a definite sleek and sound investment for your organisation. With the flexible and versatile PLQ-30 series passbook printers, you can increase service productivity and operational efficiency while maintaining a low TCO.
Technology:
Specialised Passbook Printer
Speed: up to 585 cps (10 cpi) / 624 cps (12 cpi)
Specialised slip or form printing
Mean print volume before failure of 12,000 POH
MVBF: 7 million lines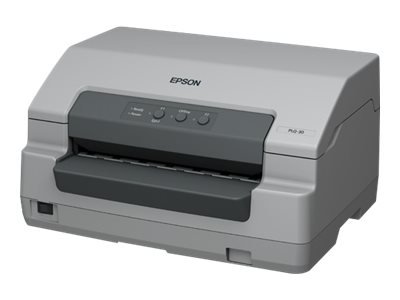 Powering business productivity with superior performance and reliability.
With powerful 24-pin technology, the wide-format Epson LQ-2090 delivers precision text and graphics, plus rugged reliability for critical print requirements.
Advantages:
Offering print speeds of up to 529cps
easy integration
increase productivity
with versatile 5-part forms printing, multiple paper loading options
durable, long-lasting ribbon
ScanCek® Cheque Deposit Kiosk
As the bangking industry drives toward becoming more customer centric, offering conveniences to your valued customers to perform banking transactions anytime and anywhere is no longer an exception but a norm.
ScanCek®, an innovative self service kiosk provides customers with the ability to deposit cheques anytime of the day, is a very important customer based self service kiosk. It allows the user to direct feed the cheques without the need for bank-in slip or envelop. The kiosk acknowledges by printing a receipt that can contain the image of the cheque.