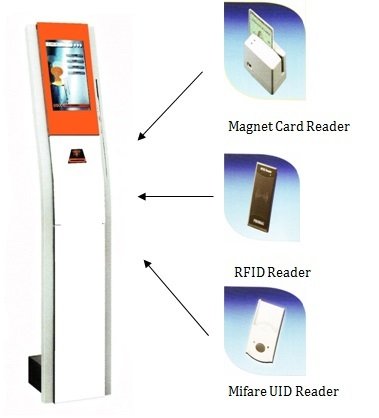 Delight Your Customers and Staff with Efficient and Improved Customer Service
Our Web Queue Management System (QMS) is web-based, using state-of-the-art technology in queue management systems. The system is highly configurable and can be accessed via the internet, even through mobile phone. Any configurations are done remotely, in real-time and without the need to restart the system or affect current queue numbering. The system also provides for flexible and intuitive web-based reporting and is open to 3rd party application integration, creating more value by providing insight and analyses of branch volumes and overall efficiency.
Kiosks
A site can have the flexibility of multiple kiosks and consoles. QMS v2.5 supports multiple services which can be configured as a priority, primary or secondary service. The ticket layout and number range for each service is also configurable and flexible.
Multimedia Display is a form of Digital Signage application which is capable of showing Ticket number, information, advertising and other messages. By using the multimedia display, user can create brilliant output to keep customers entertained while waiting. Each site can have unlimited Display and displaying different content. User is able to change and configure content of display anytime anywhere.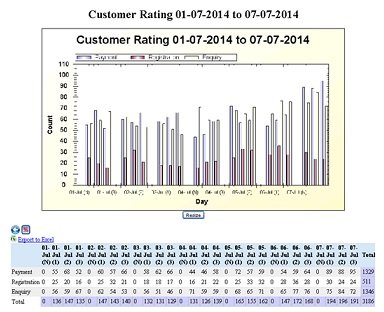 Queue data and summary reports can be extracted in two different reporting modules in our QMS:
Simpler version of Onsite Reporting
Advanced version of the Centralized Reports
Onsite Reporting
This version provides a real-time status overview of all selected sites showing key values of queue length, longest waiting and longest serving time. It allows a user to browse for details by clicking on a particular sites.
Centralized Reports
Centralized Reports is different from Site Report, because it synchronizes with every site to extract the end of the business day report. Normally this task is can be a very bandwidth intensive task usually performed at night. Any headquarter is able to view, query, monitor, and update eeach and every site remotely anytime anywhere. This reporting can be invaluable for performance monitoring and staff appraisal.
With our Mobile Application, Customers can beat the queue, get directions and save time by informing them when they need to arrive. Customers would be served instantly as the staff are ready and resources are easily manageable.
Authentication and Integration
Additional add on modules can be integrated with QMS v2.5 system such as:
Biometric Reader (Thumb Print Reader)
MyKad Reader
Mobile phone with SMS
Through these applications, customer information can be acquired prior to their queue service and this can greatly reduce the service time so as to provide customer service efficiency. Before arriving at the site, customer can provides their identity such as mobile number, account number, membership number, etc. By doing so the customer defines the service prior to their arrival making the customer feels important and served in a shorter service time.
Quality of Service Module
Online survey engine is a cost effective tool to manage different type of survey or feedback from customers such as customer satisfaction survey, service level feedback, marketing survey, etc. For example to measure customer service representative service level, company can used this module to get customers feedback rating through either selection of choices, category of choices or graphic of choices. And this can be done through the usage of latest technology of the external devices such as iPad or Notebook.
Features:
Flexible and user friendly system
User able to change and configure content of display anytime anywhere
Multiple service ticket console and expandable to KIOSK
XP-Pad is a virtual keypad able to run in Windows 2000/XP/Vista/7
Centralized reporting of real-time status and consolidated reports for all branches
Queue status viewable on standard Web Browsers
Numbers can be stored and recalled automatically
Ticket layout can be configured using Web Browser
Queue data are retained in the event of a power failure
System resumes operation automatically after power recovery
Easy maintenance
Low operating cost