Cloud Enterprise Resource Planning (ERP)
The right ERP can help your company save money, increase productivity, and gain valuable insights into how well your business is performing.   While all ERP systems have to perform the same basic accounting and business management functions to keep your books and run your business, if you look under the hood, you will realize they are not all the same.  No product is "one size fits all".   Too many features bog down the implementations and too few features impact your productivity.  We believe that everyone in your company needs up-to-date and accurate information to make the best decisions.  So, where do you start? And how do you choose?  DTS, as regional Reseller Partner for Acumatica, can help you. 
Acumatica is an award winning, world class integrated financial, CRM, and business management solution that helps you run your business more effectively. We believe Acumatica provides the best price/value, performance, functionality, and ease of use of any ERP system available for SMB (small- and medium-sized businesses).  Acumatica's flexibility extends beyond the adaptability of the functionality and deployment, into deciding what suites of Acumatica ERP to license. Acumatica core modules cover industries including Finance, Distribution, Field Services, Manufacturing, Construction and many more.
Why Choose Acumatica Cloud ERP?
Flexible Licensing and Deployment
Acumatica offers flexible deployment: ie. on premise,  private or public cloud; deployment with value for money consumption-based pricing options designed to ensure mid-market success
Access from anywhere on any device
Data can be accessed from anywhere you have internet access and on any device: desktop computer, tablet or smartphone & its supported by most any browsers.
Users instantly up-and-running on a fully mobile solution; oversee workflows, grant approvals, and log expenses from anywhere; leverage the unique capabilities of your iPhone and Android devices such as the camera or fingerprint reader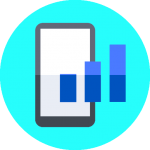 Unlimited users, zero to low maintenance (depending on the option), & many more
Modular ERP
Functionality you wish to license with the Acumatica standard suites as well as optional add-on features
Computing power and data storage size needed now and when the business changes
Deployment options ranging from SaaS, hosted in a private cloud, or on premises, which can be switched as needs change
Licensing models of annual subscription or perpetual license
Access to your data so you can copy or move the data at any time, unlike many systems
Device independence so you can easily switch between any device, including Apple iPads or iPhone, Google Android, or Windows, Mac, or Linux desktop computer.
Cloud ERP Consultancy
DTS has expertise in this field for more than 20 years and are capable of providing consultancy services in  
Scope Evaluation
Project Management
Training
Implementation
Advisory